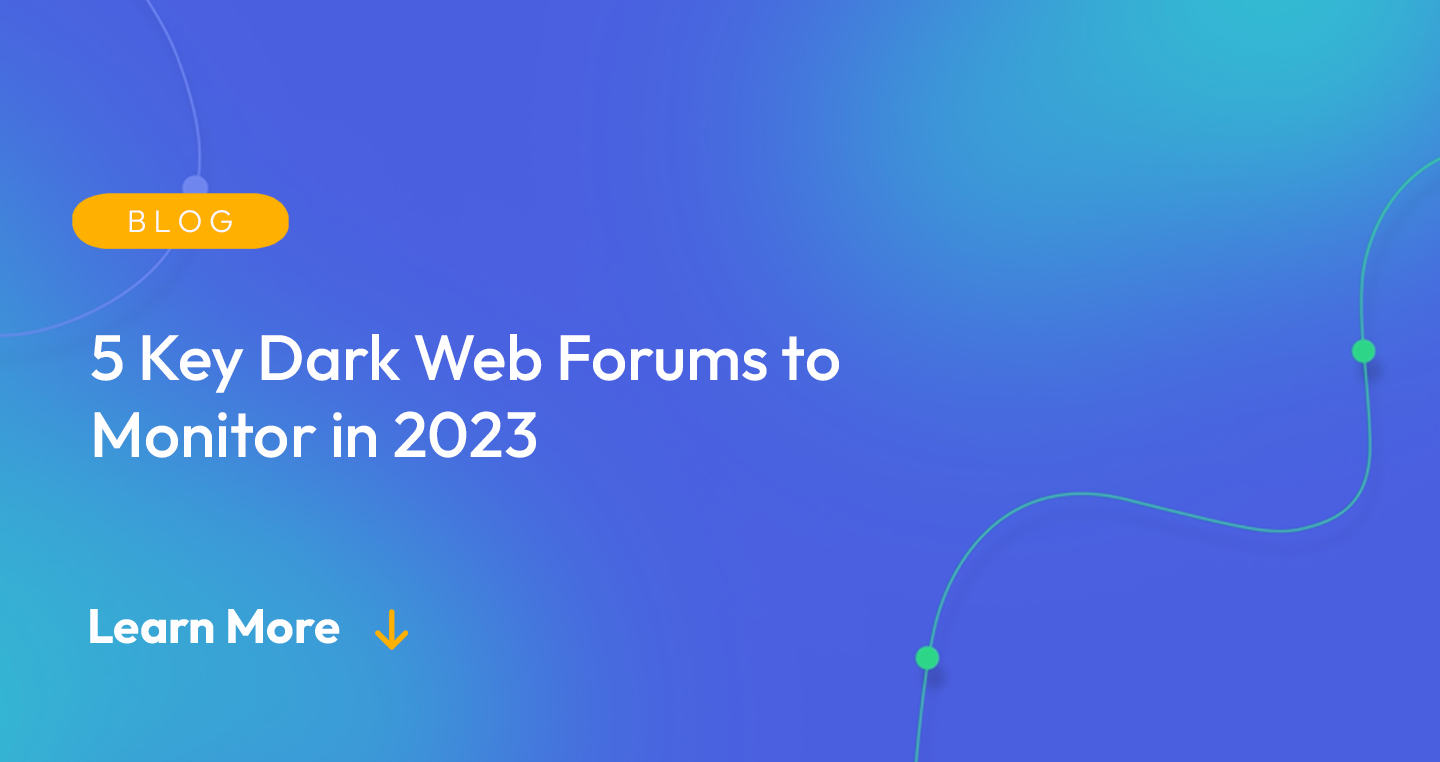 The dark web is often a mysterious and misunderstood corner of cyberspace. Often misrepresented as accessible from the greater public view of the internet, the dark web is actually not as readily as accessible as it may seem to be. This is because it is a non-public facing corner of the internet that isn't visible to search engines and requires special browsing capabilities. 
The dark web is commonly a place where individuals can operate under the guise of anonymity. Therefore, this makes it a hub for illicit cybercrime activities such as drug trafficking, data leaks, illegal marketplaces, and other criminally motivated online activities. Nestled within the dark web is a number of forums and web servers where others can share information and connect with like-minded individuals to conduct illegal activities.

It's become increasingly essential to ensure you are taking measures such as dark web monitoring to better protect your business from those utilizing the dark web to conduct their criminal activity. In this post, we'll cover the top five dark web forums that will be critical to monitor in 2023 and some best practices to employ when conducting dark web monitoring. 
Are Dark Web Forums Still Worth Monitoring?
While countless cybercriminals will often operate their illegal activities outside the dark web (such as in illicit Telegram channels), many dark web forums are still extensively valuable to monitor regularly. Dark web monitoring can be beneficial to many companies for research and threat intelligence purposes solely. This is because much of the dark web is still prominently full of threat actors eager and willing to connect with others to commit the latest hacks or attack methods successfully. From marketplaces for illegal goods to forums dedicated to hacking and cybercrime, these sites are where some of the most nefarious internet activity can occur.
The benefit of implementing monitoring dark web forums is that they can also be a valuable source of intelligence for law enforcement and cybersecurity professionals. It helps them not only combat illicit and criminal activities but also can help further prevent data breaches and other malicious attacks from happening or from persisting regularly. Ultimately, it is still important and beneficial to businesses to employ security measures that monitor dark web forums for threat intelligence reasons.
5 Dark Web Forums to Watch
1. CryptBB
Crypt BB is an encrypted open source forum for the hacker elites. This dark web forum was initially leaked in 2020 and caters to the cybercriminal and hacker elites. This forum utilizes the military-grade symmetric cipher AES 256 CTR for encrypting messages. In addition, it uses asymmetric ciphers, such as RSA768-2048 OAEP, for the password exchange between users to communicate securely. The admins of CryptBB have claimed that it is the most suitable forum for beginner programmers, carders, and threat actors that are just starting their cybercriminal career while protecting their identity. The forum is also designed to connect both seasoned malicious actors and long-time members to take part, collaborate, and share their expertise privately and securely.
2. Dread
Dread is a dark web forum that was designed to mimic the look of the legitimate forum website Reddit. After its creation in 2018, this dark web forum now sees over hundreds of posts per day currently. This forum was essentially created to host many sub-communities to help threat actors connect and find the information they want more quickly. The majority of the illicit information shared on Dread is in relation to data leaks and selling data freely.
3. Nulled
Nulled is a large dark web forum that hosts over millions of views regularly. Since its beginnings in 2015, this dark web forum has become one of the most famous forums for their 2016 hack that led to an extensive data breach on large platforms such as PayPal. While Nulled does have a public internet facing presence along with the main dark web forum, many who navigate to that site are still required to set up a password.
4. FreeHacks
FreeHacks is a Russian based dark web forum that started around 2014. This Russian cybercrime forum is one of the largest hacking communities in the world. It has a constantly expanding expertise database covering hacking methods and tools for everything from carding to DDoS attacks. The members of this community have the primary goal of providing a key resource for Russian hacking methods to maximize efficiency. They also require a strict joining process that can test the skills and proficiency of potential members, so it is designed for the hacking elites.
5. XSS.is
Another highly notable Russian hacker forum found on the dark web is XSS. The forum's name derives from the acronym of cross-site scripting (XSS) and began to surface around 2013. This dark web forum was formed to provide shared information about exploits, zero-day vulnerabilities, malware, and other network infiltration capabilities for cybercriminals. The main content it hosts includes exploits, vulnerabilities, carding, illicit access marketplaces, and credential databases. XSS is widely known in the criminal hacking scene. It features conversations on illegal topics, most of which are often related to hacking and financial fraud.
Best Practices for Dark Web Forum Monitoring
When implementing dark web monitoring as part of your cybersecurity strategy, it may seem challenging to implement successfully. However, the benefit to implement dark web monitoring as part of your overall security posture can help your organization stay on top of ongoing threats to industries and provide valuable threat intelligence insights for your company. There are several best practices companies can follow to strengthen their monitoring efforts. Here are four best practices to ensure your dark web monitoring is done effectively:

1. Define the goals of conducting dark web monitoring.
Dark web monitoring should always be done with the goal of high ethics and intelligence gathering only. Organizations should aim to set an established baseline of goals, key areas to monitor, and rules of engagement. They should also ensure that they are gathering the necessary information to help aid identifying and tracking of exploits and actions taken by cybercriminals.
2. Employ the use of staff, tools, and/or automation to support dark web monitoring.
There are numerous tools and automation capabilities that can help support companies with regular dark web monitoring. These tools can include dark web crawling while also providing alerts regarding any notable exploits, specific keywords or phrases to watch, and any relevant information that can be detrimental to your brand. Also, it is important to provide your staff the training and defined objectives of what to look for regarding their monitoring efforts.
3. Implement an escalation policy or procedures regarding dark web monitoring.
If a credible threat is detected, businesses should have a predefined escalation strategy to follow accordingly. This plan should also include outlining how the information will be shared with the relevant internal and external stakeholders within the company. It may also be important to take the measure to implement a remediation process if exploits have been found during the dark web monitoring.
4. Ensure regulatory compliance is retained and review measures regularly.
Businesses often need to ensure that their monitoring activities comply and adhere to the necessary laws and regulations for conducting dark web monitoring. This can include regulatory compliance measures such as data protection laws and cyber best practices to ensure the monitoring is done for ethical and threat intelligence purposes only. Additionally, given that the threat landscape is constantly changing it will be valuable to ensure the policies and practices of dark web monitoring for your organization are reviewed and updated regularly.
In today's digital age, the dark web has become a breeding ground for cybercrime and other illegal activities. Thus making it a significant threat to countless consumers and companies. Implementing dark web monitoring is a crucial step for many companies to identify potential cyber risks, data breaches, and other illegal activities. By effectively monitoring the dark web, businesses can stay ahead of the curve and respond quickly to emerging threats, while protecting themselves and their customers successfully.
Monitor the Dark Web with Flare
Implementing dark web monitoring is not only about risk mitigation, but also about proactively identifying security enhancement opportunities and maintaining a positive brand reputation. Flare can help companies prioritize implementing a comprehensive and effective dark web monitoring program to mitigate risks and increase your security practices in today's ever-changing digital threat landscape. With Flare, you can protect your company with clear and dark web monitoring so that you can safeguard your brand more effectively.